our story
Located just behind Butterfly Creek on Uenuku Way, Auckland Airport's Lollipops is a vibrant, happy centre where children enjoy a safe, supportive environment that caters for their holistic development. We provide a wonderful range of activities and experiences that empower children to develop strategies for active exploration, thinking and reasoning as they grow to become confident, independent learners.
Because we have a very low staff turnover and many long-term staff members, children within the centre enjoy a strong, secure bond with staff and enjoy a sense of trust and belonging.
At Auckland Airport Lollipops, we believe that children should be treated with respect and dignity as unique individuals. We acknowledge and value cultural diversity and work in partnership with parents and whanau to establish a sense of belonging and trust. We believe that the inclusion of family and the community are an integral part of each child's positive development and will work with parents in partnership acknowledging their role as their child's first teacher.
For children to be empowered, our educators provide opportunities for children to create and act on their ideas. We believe that in order for children to develop holistically, we must look at the child as a whole: "cognitively, socially, culturally, emotionally and spiritually," (Te Whaariki 1996).
ERO Report
The Education Review Office (ERO) is the New Zealand government department that evaluates and reports on the education and care of students in schools and early childhood services. ERO's reports are used by parents, teachers, early childhood education managers, school principals and trustees, and by government policy makers.
Early childhood services are reviewed on average once every three years. Reviews will be more frequent where the performance of a school or centre is poor and there are risks to the education and safety of the students, or less frequent where a school has a stable reporting history and demonstrates good self-review processes and use of its assessment information.
You can read our centre's ERO review here.
centre information
Centre Hours:
Monday – Friday  - 7:00am – 6:00pm
Saturday, Sunday & Public Holiday Closed
Ages Catered For:
3 Months – 5 Years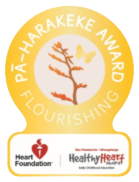 I would like to say how well and how much my daughter has learnt and progressed during her time at lollipops daycare. The teachers in supertots are amazing and so interactive with the children and my daughter absolutely loves them, I am truly pleased at how much she has learnt and how she interacts with other children, she surprises me each day! Truly thankful.

Since day one the teachers have always shown such care and appreciation for the kids in their classroom.

The staff are very friendly and always available for any questions or concerns I may have.

They take their time to explain how my son is doing at day care, and we enjoy the story park stories they put together.

He has developed so quickly in the 6 months we have been taking him there and look forward to being part of the Lollipops community until he is ready for school.

Choosing a daycare for our little one was very stressful, but choosing Lollipops Airport was the best decision we made for our 4 months old daughter. She started attending 2 weeks ago and since then she has truly grown so much being a part of such a loving and caring team. The Little Kiwi teachers have been wonderful not only at caring for Marley, but also at supporting us as we go through this big transition. We are so lucky to have them in our life and to be able to leave our daughter in such capable and loving hands on a daily basis. We highly recommend Lollipops Airport to any parents looking for the perfect safe place for their children.

My son thoroughly enjoys his time at Lollipops in the Super Tots classroom. His teachers encourage his development in all aspects, and ensure that he is happy and having fun at the same time. We have open communication between home and daycare, and know that everyone is working for the best outcome for my son. It is great to see how happy all of the children are and the different learning experiences they are having.  

In the short amount of time that Cassidy has been in the Little Einsteins class her growth and development has been incredible. Her fine motor skills have developed and can now identify and write the letters of her name! Cassidy is building relationships with the teachers and students and feels a sense of belonging, as do I. I enjoy catching up with the teachers on pick up and drop off to see what Cassidy has been learning through the day.  I also love the updates during the day through storypark. Even though Cassidy is only 3 I feel like she is well on her way to an excellent start to her education.  The teachers also extend on what we are learning at home, whether it's te reo maori or reading they get involved and we work together. I love the Little Einsteins whanau. Keep up the great work team.

For a first time mum I was so nervous about putting my little boy into full time care at only 5 months old, the ladies in the little kiwis room were amazing really put my mind at ease from day one and enabled me to return to work relaxed that he was in great hands. They are so friendly and know days when he needs a few more cuddles. The ladies helped me so much with tips and tricks for sleeping and feeding, teething etc and I luv hearing what the lil guy has been up to when I pick him up in the arvo, such a great team! Thank you so much.

Airport Lollipops is a fantastic establishment. As parents, we wanted Zara to feel comfortable in the environment that she spends most of her day in and we found a perfect match in Airport Lollipops. The teachers take a genuine interest in the child's progress and help to not only educate but to build their confidence. Zara started at Airport Lollipops when she was two and will be turning four soon. We have enjoyed our journey with Airport Lollipops and would highly recommend them.