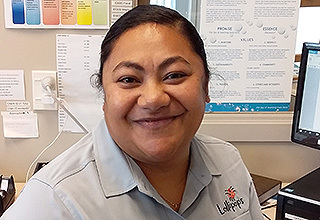 Pine Old, Centre Manager
What inspired you to become an early childhood teacher?
I have always loved looking after other people's children at church and now, having children of my own, it reaffirms the importance of children's early years – they lay the foundations for their future.
How long have you been working in this sector?
I have been in this field for over 11 years.
What do you love most about what you do?
Giving the children a reason to smile and enjoy their day.
What sets your centre apart?
We work closely with our community.  We support different charities and our families are an integral part of that. The relationships that we have with our families and children in our care really shows how much we grow as a community.
What is your favourite time of the year at the centre?
Christmas time as our community gathers around to witness their children's performances as well as getting to know other parents, staff and to catch up with their child's individual learning capabilities.
What is your own personal early childhood philosophy?
Treat everyone the same as you would like yourself to be treated and always treasure every moment that we have with each other.  To share the aroha with our tamariki and encourage children to be risk takers.
What do you like to do in your spare time?
Joining in with my children's extra activities and sports and just enjoying being a mother to my kids.
Diploma in Early Childhood Education
more