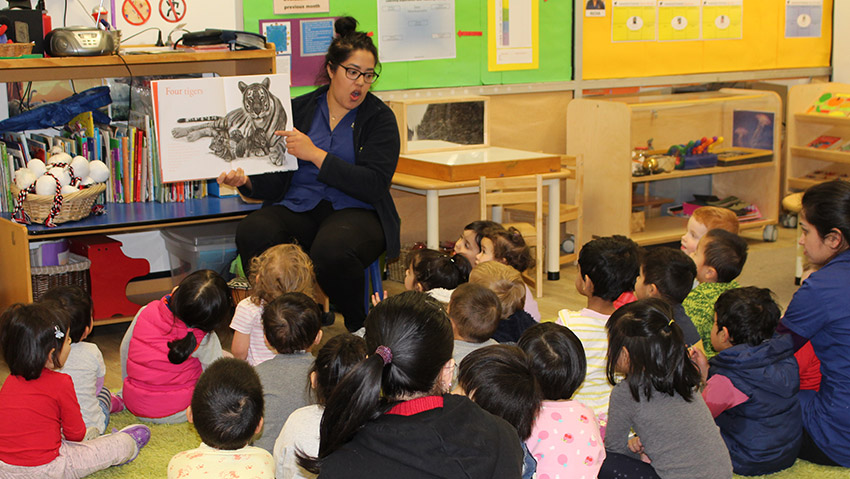 Environment
When it comes to the physical environment that children enjoy at Lollipops Aubrey Street, we just know we are the best.
Extensive grounds. Typically, children have 4 times the area required under NZ legislation.
Natural grass covering the majority of our playground area. We believe that children deserve the feel of grass between their toes.
Mature playgrounds full of interesting nooks and crannies, extensive plantings, sandpits, huts and interesting places to play.
Large covered softfall areas. This makes it possible to play outside even in bad weather.
Acoustic absorbent ceilings and walls. This keeps the noise levels down and improves educational outcomes.
Infant & Toddler Centre : 3 months to 2 years
In the Infant and Toddler Centre, care is our first priority. Children's physical and emotional needs are met promptly. Education is still vital and we focus on extending the children in two areas, these are development of language and gross motor skills. Group Planning and Individual Assessments provide links by which we can ensure a centre wide consistency to our educational programme.
If toddlers are to develop their verbal communication skills, it is essential that they grow up in an environment rich in language. We talk to the children, read them books and sing songs.
If toddlers are to become comfortable and confident in using their bodies, they need to be continuously challenged in their play.
Breast Feeding Friendly
Lollipops Aubrey Street has been approved by the Taranaki District Health Board as being an organisation that is "Breast Feeding Friendly" (http://www.tdhb.org.nz/services/maternity/breast_feeding.shtml).To be accredited we must provide:
Baby change and hand washing facilities
Pushchair access
Comfortable seating
Clean, safe smoke-free environment
Comfortable temperature
Staff who are supportive and welcoming to breastfeeding mothers
We endeavour to meet all our responsibilities in this area and are open to feedback on how we can do it better.
Junior Centre 2 to 3½ years
For this age group, less time is needed for care routines as the children start to gain important skills. Care remains our first priority, but now children are old enough to experience a higher level of independence. More time is available for education.
Language development remains important, but now social skills, written language, numeracy, art, music and much more are all of interest. Our teachers are becoming very busy encouraging and satisfying the childrens natural desire to learn
PreSchool Centre 3½ to 5 years
At this age, most children are becoming independent and require little help in their daily routines, we encourage this as much as possible. Their growing independence enables our teachers to focus more on education.
Education at Lollipops Aubrey Street PreSchool continues to be based on a holistic approach, but now there is also formal educational sessions delivered through our TopClass programme. These sessions aim to provide a solid base in PreSchool literacy, numeracy and concentration skills.