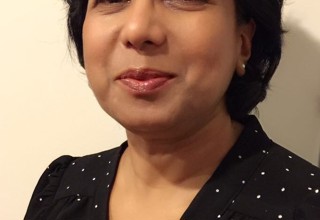 Chitra Mukerjee, Centre Manager
What inspired you to work in ECE?
I have always considered the early years as crucial, as they are the formative years which shape a person's personality and attitude towards life. Hence, I wanted to be a part of that exciting journey and make a positive impact on the lives of the children I am fortunate to know! I've been working in the sector for over eight years now.
What do you love most about what you do?
The relationships that I build with the children and their whanāu is the most endearing part of my work. The mutual love and respect that we share is invaluable to me. The fact that learning happens in a fun and joyful environment makes it extremely rewarding and worthwhile to be an intrinsic part of. Growing the team to stay focussed on achieving quality learning outcomes for children is another aspect that I really enjoy.
What sets your centre apart?
The environment – our centre is visually appealing and well-resourced with great attention to detail.
Strong links with the local community - although we are based in a commercial building, we enjoy frequent trips to different locations in our vicinity which makes our children aware of their surroundings and develop reciprocal relationships with the community.
Regular one-on-one parent/teacher meetings - these give us an opportunity to share our thoughts and ideas with parents/whānau and seek their collaboration and partnership in matters of programme planning and centre events.
What is your favourite time of the year at the centre?
The beginning of the year, as we have a lot of new children joining our centre. We usually have a Parent Morning get together to welcome the new families which sets the right pace for the year as it enables them to get to know our culture of mutual respect and develop a sense of trust and belonging. The end of the year generally sees a slowing down of everything, so the new year tends to be a period of rejuvenation and everyone is happy to see the usual hustle and bustle return!
Bachelor of Arts, Education (Honours), Diploma in the Montessori Method of Teaching, Graduate Diploma in Teaching (Specialisation in ECE)
more