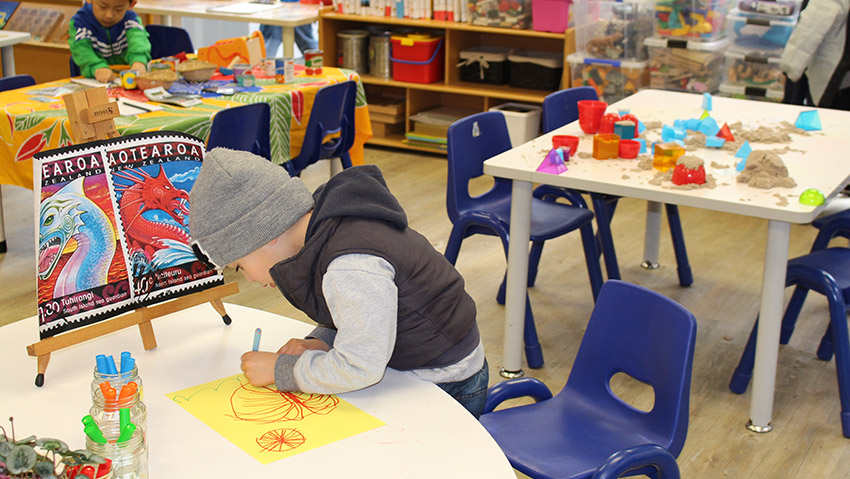 At Lollipops Grey Lynn, we value and respect every child as a truly unique being, who is trusted as a competent and capable learner, deserving of the best possible opportunities, care and education.
Being inspired by the RIE Approach and Reggio Philosophies mean that our educational programme, environment and centre culture reflect an image of the child that is rooted in absolute respect, where children experience a stimulating and fully enriched programme that is safe and supportive, that allows children space and time to grow and develop, where a sense of belonging is nurtured, and a sense of wonder and curiosity is celebrated.
Our education programme encourages children to explore and develop at their own pace through both planned and spontaneous experiences and ensures that children have mastered the fundamental skills needed for a smooth transition to primary school. We embrace Te Whaariki, The New Zealand Early Childhood Curriculum, as the framework which defines outcomes for learners in early childhood environments. Through implementing this curriculum we effectively provide for experiences that enrich children's lives.
We believe the positive relationships children experience in their day to day lives are fundamental to a holistic education. We are passionate about the role family plays in the growth and development of their children. We strongly value parents as partners and actively encourage family involvement inside and outside of centre life. This also means our children and teachers are active contributors within the community. Children are encouraged to take care and responsibility for our planet. Through "reduce, reuse and recycle" we hope to inspire habits, knowledge and a lifelong attitude of responsibility for the sustainability of our world.
Lollipops Grey Lynn is a place where learning is a never-ending journey – even for teachers! We see ourselves as reflective practitioners with a commitment to professional learning. By modelling this we inspire children to be independent learners and to enjoy learning and discovery as a lifelong experience.
Essentially, we strive to provide a safe and joyful place where children, families and teachers experience the connectedness of warm, caring relationships, where all parties are supported to excel in their development, and have fun learning and growing together!
Transition to school programme:
One of our key focuses is to ensure that children are ready for the transition to "big school". As the children near school age and display a readiness, they are invited to join the Transition to School group which is run by a qualified teacher with a primary school background.
Each day this group gathers to undertake activities that introduce the children to some of the concepts learnt in their first year of primary school.
There is a strong focus on developing the fundamental social and co-operative skills which will assist each child with a smooth transition to school and create a solid foundation for their future learning and relationship building.
Children are encouraged to be responsible for their own decisions – implementing, creating, exploring and participating in activities.
Through this time, we aim to extend skills such as:
planning and active enquiry
group co-operation
social skills
literacy, numeracy
problem solving skills
We know that giving this group of older four year olds time to work together on a daily basis will assist in developing skills that will assist in the transition to school.