Our Story
Lollipops Hastings is located in the heart of the Hastings Central Business District.  We have links to our local community and you will often see us out on excursions in the community.
Most of our staff have a Bachelor of Teaching and Learning and strive for the best learning outcomes for the children at the centre.  Our full time Cook, has worked very hard over the past year in gaining the highest level Healthy Heart Award, Pā Harakeke from the Heart Foundation. 
ERO Report
The Education Review Office (ERO) is the New Zealand government department that evaluates and reports on the education and care of students in schools and early childhood services. ERO's reports are used by parents, teachers, early childhood education managers, school principals and trustees, and by government policy makers.
Early childhood services are reviewed on average once every three years. Reviews will be more frequent where the performance of a school or centre is poor and there are risks to the education and safety of the students, or less frequent where a school has a stable reporting history and demonstrates good self-review processes and use of its assessment information.
You can read our centre's ERO review here.
Centre Information
Centre Hours:
Monday - Friday 7.30 am to 5:30 pm
Full days, half days, morning and afternoon sessions.
Saturday, Sunday & Public Holiday Closed
Ages Catered For:
3 months to 5 years old.
Centre Capacity:
Purpose built facility licensed to cater for 100 children.
We have the Infants Room (0-12 months), Mini Todds Room (12 months to 2 years), Young Children's room (2 years to 3.5 years) and Rising 5's room (3.5 to 5)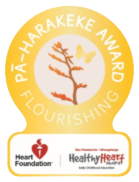 We love how Connor has been encouraged to develop at his own pace. The stories about Connor on Storypark are great, we really appreciate the teacher interactions with the stories that we post. 

We appreciate the communication from Susan and Flo regarding Connor's transition into the Mini Todds room. We like how Connor is learning to talk and this is being encouraged through talking to him at his level.

How the room is set up differently everyday to provide Connor with new challenges and to suit his interests.We love the new skills, actions and songs Connor comes home with. The nature of the teachers by way of excitement and pride when he achieves or maters a new skill.

Eve and Brendon Murphy
Hastings

To the teachers in the Rising 5's and all the teachers throughout the centre who have supported Braden.  Thank you for all your hard work.  It has been a fun and also challenging journey and we will miss you all.  Braden would not have come as far as he has without the work you have put in, Lollipops Hastings.

Thank you very much for everything you've done for us, especially for Milla. It's been a great journey with you Milla has grown into a very confident and happy girl. Wish you all the very best, with Love Milla and Irena.

We enrolled at Lollipops Hastings in 2013 when Stella was 3 months old. Words cannot express how grateful our family is for each and every one of the amazing Lollipops early childhood teachers and staff who have shared in our lives. At times, in Stella's life so far, when all around us is chaos and changeable the one constant has been Lollipops; our second home.  Warmest regards, Josie and Stella Morris.

I would like to thank you all for all the support, caring and encouragement you all have given Reyansh. Reyansh has been showing interest in lots of different activities.

Thank you for creating such a challenging environment and learning for Reyansh.  He Loves the Peanut song with all the actions. He has also shown lots of interest in other nursery rhymes and dancing.  He has also been paying with balls – throwing and kicking them. He loves helping me and his Dad in the garden. Reyansh is also getting better. Reyansh has been saying a few words clearly.

Lollipops Hastings is a place where I can leave my son with confidence and piece of mind, I know my son will be well looked after. A great place for children! The warm feelings starts from the reception, get a warm welcome with a beautiful smile at reception. Teachers are awesome they know everything about kids, what they had to eat, how long they slept, a neat and clean place, flexible for working parents. A safe place for your children. Highly recommended *****