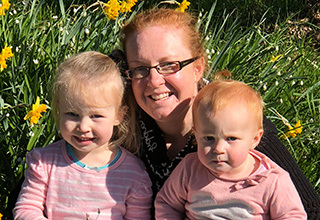 Nicola Andrews, Centre Manager
Tell us a bit about yourself.
I have been part of the Hazeldean whanau for nearly ten years now.  I am a fully qualified teacher and became Centre Manager five years ago after working alongside our Nursery team as team leader. I have two beautiful strong willed girls who come with me to Hazeldean each day, and so this centre is a vital part of my own family's growth and development. 
How long have you worked in the early childhood sector?
I have worked in early childhood for 14 years in both Auckland and here in Christchurch, and have a real passion for working with not only the children but the whole family.  I am a firm believer in having great relationships with all of our families to ensure the best possible transition for each child that we welcome through the door. 
What do you love most about what you do?
I am passionate about primary care and child led development which we have weaved through our whole centre and made a vital part of what we do day to day, and this passion is spiked again and again each time I see a child learn and master something in their own time and in their own way.
I am super lucky to be working as part of such a supportive and amazing team of teachers, and each day that we walk in the door I know that each teacher is striving to provide the best for every child - I am super proud of that!
Where can we find you when you are not at the centre?
When we are not here, we love to explore what Christchurch has to offer, which includes walks and parks and farmers' markets and at home a favourite is cooking dinner together as a family.
Fully qualified teacher.
more