Lollipops Kumeu Art Exhibition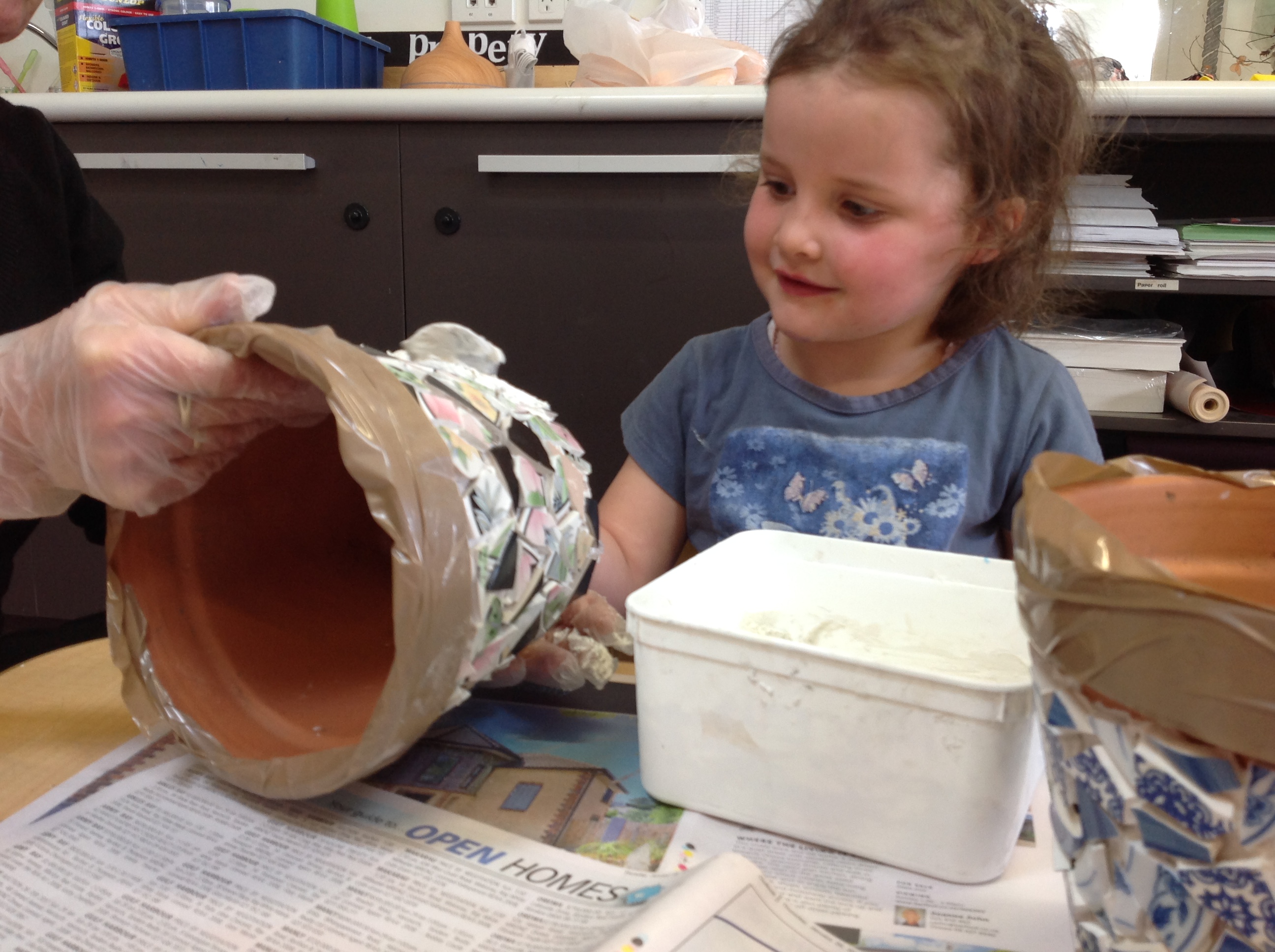 Throughout the year at Lollipop's Kumeu our preschool children have been exploring what it means to them to be a "Kiwi" and through this came the investigation of some New Zealand Artist's, in particularly Judi Brennan a well-known ceramic artist, this lead our children to learn new techniques and ways in which to express themselves through creative media.
A particular interest was taken to mosaic work, this first started out as using paper to create their own mosaic's, a photo of a snail was placed as a provocation, from here many creative avenues were inspired.  These creations involved a complex range of coordinating thoughts and actions like, sorting, recognition, assembling, decision making, problem solving, concentration, fine motor skills and imagination. Soon the desire to transform their two-dimensional pictures into three dimensional forms was discussed and planned. Precision and hand eye coordination became of extreme importance as our children became exposed to moulding clay to create 3D forms in their desired shapes, pouring cement into moulds and hammering tiles and plates to make pieces for their mosaic work.
Next tiles were carefully picked and strategically placed to achieve the desired patterns and designs. Our children became experts at gluing and grouting, a timely process that they embraced and became very proud of their efforts. Peer-mentorship was at an all-time high as they supported each other and shared their skills.  The preschool decided they would like to hold an art exhibition to showcase their pieces and invited the rest of the centre to also contribute their own pieces.
Our Toddlers worked on pieces that saw them explore the use of different tools for painting and our Infants worked on individual and collaborative canvas's, exploring layers and different shades of colour.  Fast-forward to early November and we held our very own Art Exhibition, our foyer was transformed in a gallery and parents were invited to view and purchase the master pieces.
All proceeds raised were for our chosen charities;  Hope Foster Care NZ and Autism NZ. We are very proud to share that we raised $1550 to donate. This was a beautiful event for our centre that brought us all together and gave our children a great sense of belonging and pride. Our parents, grandparents and visitors to the centre were beyond impressed by our children's work.