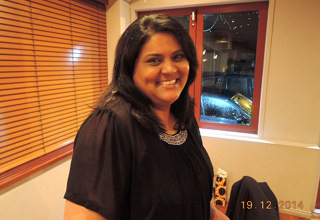 Sujata Sharma, Centre Manager
What inspired you to work in ECE?  
I come from a family of teachers.
How long have you been working in this sector?  
More than 11 years.
What do you love most about what you do?  
I love building trusting and caring relationships with children, their families and everyone I work with. I really enjoy sharing quality time with children of all ages.
What are three things that set your centre apart?  
We welcome everyone warmly, our centre is in an office block but we are surrounded by lush gardens, and we have an adorable group of children, parents and teachers in our centre.
What is your favourite time of the year at the centre, and why? 
Autumn when the children jump and throw around fallen leaves. I love to hear their giggles and laughter and the sound of leaves crunching under their feet.
What do you do with yourself when you are not working? 
I love cooking and baking with my three children and going down to the beach. I enjoy reading and love listening to music.
Bachelor of Teaching - ECE.
more