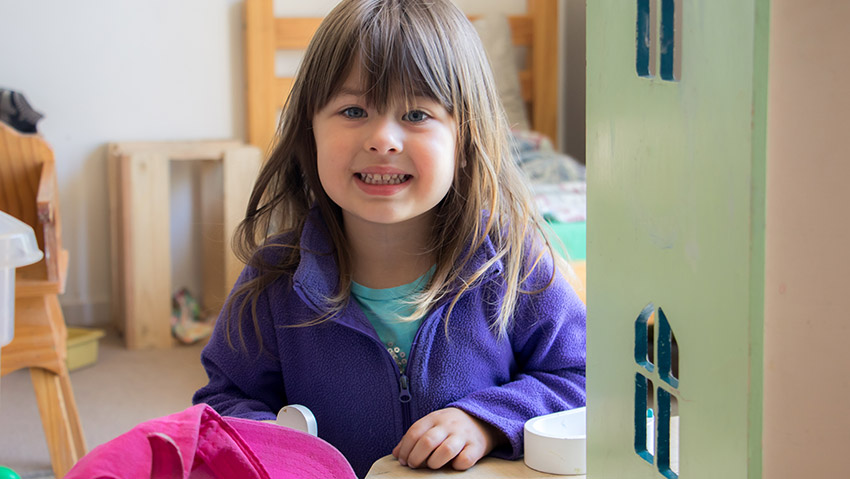 Infants and Toddlers
In our Infants and Toddler Room we believe that communication is the key. Quality communication between the child, the primary caregiver and the whānau ensures that we are all providing the best opportunities and experiences for each child in our care. With a calming and natural environment, we work to a philosophy that is rich in experiences and encouragement so that our children can develop the skills they need to become confident and competent learners.
This is achieved with our strong belief in primary caregiving. Primary caregiving essentially is the process of the child developing a trusting and caring relationship with their carer through constant and consistent interactions and care.
The child and carer learn about each other's rhythms and responses throughout these interactions. The primary caregiving system ensures that all children feel safe and secure in their environment, who with a sense of trust in their caregiver, provides a secure base for the child to explore independently. The primary caregiving approach works so beautifully with each carer having a secondary carer to assist them if they are busy caring for another child or they are absent. The two caregivers work closely together to ensure your child settles in well and that all their physical and emotional needs are met.
We are dedicated to following and fostering each child's individual interests. Each child has a 'Learning Focus' that is observed by their Primary Caregiver and then discussed with all the educators and the child's whānau. We work collaboratively and holistically towards this goal and a wide range of experiences are provided to encourage this focus. All experiences are child-focused/initiated and then fostered and encouraged by the teachers. As a centre inspired by the principles from Reggio Emilia, we encourage children to be expressive and creative with their feelings and ideas through lots of different media such as art, dramatic play, music and movement. We wish for our Infants and Toddlers to experience free movement where they can explore and discover for themselves in a safe but challenging environment.
Preschool
Our preschool has a strong emphasis on learning through the environment. Children are encouraged to explore through touching, feeling, mixing and creating by making great use of our amazing Art Studio. Whether it be making concrete by mixing sand and water to collecting water from our 'rain catcher,' the opportunities are endless for children's creativity and imagination, with and alongside dedicated, passionate teachers who are just as interested in getting messy and mucky exploring as the children do!
Explorers
The Explorers are our youngest group in the preschool and consist of mostly 2 year olds as well as some 3 year olds who are preparing to transition to the Discoverers. As well as the main areas of the preschool, the Explorers have a separate area known as 'The Explorers' Room. This space provides our youngest tamariki with a quieter area where they can explore and be engaged in a variety of age appropriate activities and experiences based on their current interests.
We promote an environment that challenges and stimulates the Explorers to be the best they can be, with self-help and self-care skills particularly encouraged in a supporting environment. We have two group times each day, one just before lunch and the second just before most of our children leave at 4.00 pm.
Discoverers
The Discoverers are aged from around three to around four years of age, there is no set time to transition between groups as it is led by the needs of the child and their own pace. At our group times, we are focusing on building relationships and developing our social skills through many group activities, as well as having a sense of belonging, taking responsibility for ourselves and our environment. We encourage our tamariki to develop their confidence by providing an environment where they can participate and contribute to their own learning and share their interests. In the Discoverers, we like to learn through multiple ways to meet the needs and interests of our children. This may be through play, hands on or physical movement, books or visual aids, songs, rhymes and even participating in research projects we cater to all our learners and what best meets their needs to support their progression into the Adventurers.
Adventurers
The Adventurers are our eldest tamariki and are aged from around 4 1/4 – 6 years. Discoverer tamariki move up to be Adventurer's not long after their 4th birthday, at their own pace.
As an Adventurer, tamariki are given more responsibility for their own learning and group times are based around the emerging interests of the tamariki. Adventurers learn skills for problem-solving, questioning, exploring ideas, working in a team, taking initiative, persevering, communicating, and self-management to name a few.
Our mat time is where we focus on transition to school skills. Our tamariki can work in small groups on long-term projects and experiences that incorporate essential skills for a seamless transition to school. Our emphasis is not just on literacy and numeracy, but providing tamariki with the opportunity to inquire, question, develop skills in understanding other points of view, working with others, self-help skills and confidence building.
Our programme incorporates regular collaboration with Pegasus Bay School for those tamariki who will be transitioning there. This includes the four-year-old transition classroom times, pre-schoolers library time and assembly visits. This aims to help children become more familiar with their new environment and to help build their sence of belonging at school.
When the time comes for tamariki to move on to school, whānau are invited to their child's graduation mat time which celebrates their successes here, involving the opportunity to wear a korowai graduation cloak that was made by previous graduate tamariki.