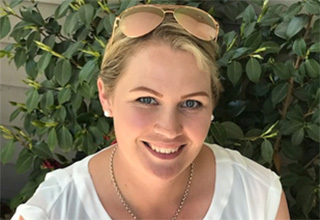 Courtney Whitmore, Centre Manager
What inspired you to work in ECE?
I vividly remember my kindy teachers from when I was young. I have fond memories of my play dough cakes and the trips along the path holding my friend Rachel's hand, skipping and singing. These memories and friends are still with me. This was what inspired me to become an educator. I wanted to be able to instil the fun and love of learning in the lives of other children.
How long have you been working in this sector?
I have been working locally in the ECE sector for the past 10 years. Eight of those years have been in a leadership role
What do you love most about what you do?
I love the morning cuddles and welcomes from all my youngest friends, I love watching their faces light up when the magic happens, and I love the fun, laughs and enjoyment that children bring us.
What are three things that set your centre apart?
Our caring and experienced teaching team, our sense of family and community and our home cooked kai.
What is your favourite time of the year at the centre?
Summertime is my favourite time of year where we can splash about, play in the sun, explore the open outdoors and enjoy homemade ice blocks.
What do you do with yourself when you are not working?
I enjoy spending time with my own three children, taking them to ride the ponies at my parents' farm just up the road. We go flying, camping, bike riding, exploring and sharing dinners with our family and friends.
Diploma of Teaching ECE, Full Registration, current First Aid Certificate.
more