Our Story
Situated on Petone beach front Lollipops Educare Petone provides care and education for children from birth to five years.  It's four purposely designed learning environments are spacious and inviting and have hand- picked Teaching Teams to ensure children receive the best possible care and education.  Infants are nurtured in their own environment to ensure optimum care.  Our ratios exceed Ministry of Education minimum requirements and with a Philosophy that regards parents and whanau as a core element of the Centre, along with relationships, community, diversity and purposeful environments, outcomes for children are significantly improved. 
We are a multi-cultural centre and cater for the diverse needs of the community, including both working parents and those that are studying.
With one of the largest landscaped outdoor environments in the Hutt Valley, children have ample space to explore and investigate in the natural world. 
We provide designated sleep rooms for all ages which ensure all children have access to peaceful and respectful places to rest and nap. 
Our Centre cook provides wholesome, healthy, home cooked meals that are nutritionally balanced and varied.  Meals include morning and afternoon tea, and a warm lunch.  The meals we offer meet the Healthy Heart guidelines and our cook will ensure any dietary requirements such as food allergies, intolerances or cultural requirements are specifically catered for. 
Located on the beach front of Petone Esplanade, Lollipops Educare Petone has been purpose designed to provide a welcoming, safe and nurturing environment for children aged birth to five years. We believe in creating a fun and secure setting that encourages childre­n to be inquisitive, independent learners who are confident to contribute and engage.
Ideally located for those travelling into Wellington and across Lower Hutt Valley
Convenient on-site parking for ease of drop off and pick up
Open door policy supporting parent and whanau involvement
Opportunities for parents, whanau and caregivers to meet during whanau events and evenings
20 hours ECE subsidy available
For any new enquires it is advisable to make an appointment so that time can be spent with you showing you around our centre.
ERO Report
The Education Review Office (ERO) is the New Zealand government department that evaluates and reports on the education and care of students in schools and early childhood services. ERO's reports are used by parents, teachers, early childhood education managers, school principals and trustees, and by government policy makers.
Early childhood services are reviewed on average once every three years. Reviews will be more frequent where the performance of a school or centre is poor and there are risks to the education and safety of the students, or less frequent where a school has a stable reporting history and demonstrates good self-review processes and use of its assessment information.
You can read our centre's ERO review here.
Centre Information
Centre Hours:
Monday – Friday  - 7:30am – 5:30pm
Sessional care for 3 & 4 year olds 9:00-3:30pm
Saturday, Sunday & Public Holiday Closed
Ages Catered For:
Birth to 5 Years.
Centre Capacity:
Kiwi Infants = Birth – 18months
Kiwi Toddlers = 18months – 2 ½ years
Tui Young Children = 2 ½ years   – 3 ¾ years
Kakapo Young Children = 3 ¾ years – 5 years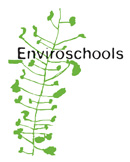 We are proud to be part of the Enviroschools Programme
Find out more
Your induction into the centre and settling procedures have really helped, I feel I can totally trust that my baby will be cared for and happy after spending the past two weeks in the Centre doing settling visits.  I never thought they would be so happy. I feel that you understand

We have noticed our daughter talks about her friends a lot more now and has formed some good friendships and gets excited about seeing her friends.

The Tui Room teachers are great with my child. They make such an effort to greet him in the morning knowing that he enjoys that interaction to help settle him in for the day. It's awesome that they are so proactive and such lovely people."

It's been amazing seeing the transition unfold from Tui Room to Kakapo Room. So much great stuff for our son and his little mates to take on being the little fishes again in the big pond. Thanks (teacher) for your support in our son's development. We both have so much to be grateful for having him develop so well at Lollipops

I can't believe my child eats so well when he is at Lollipops, he loves Ela's cooking and tells me mine isn't the same as Ela's.  You offer such a variety of healthy meals I don't need to worry!