For early childhood learning.
Lollipops is a family-centred brand. These are high quality centres, with a natural theme. Lollipops embraces the spirit of freedom that every Kiwi child has the right to feel, our purpose-designed centres feel like the loving home our children left this morning. This is a uniquely New Zealand experience where your children blossom in partnership with our dedicated teachers, learning through Ako principles.
Find a centre
About Us
Wonder, explore, learn.
These words capture the child-led learning environment that children so love about Lollipops: a place where children learn self-empowerment, finding their own solutions through doing practical things.
Lollipops embraces the spirit of freedom that every 'kiwi kid' has the right to feel. Our family–orientated purpose designed centres feel like the loving home our children left this morning. This is a uniquely New Zealand experience where your children blossom in partnership with our dedicated teachers.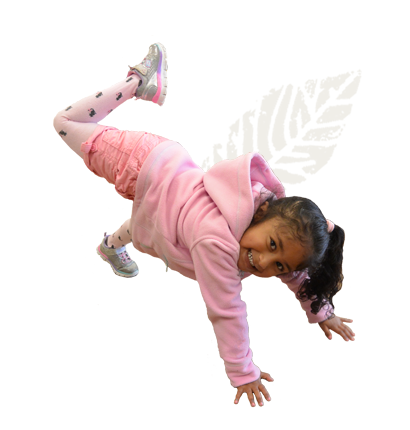 Testimonials
I would like to thank you all for all the support, caring and encouragement you all have given Reyansh. Reyansh has been showing interest in lots of different activities.

Thank you for creating such a challenging environment and learning for Reyansh.  He Loves the Peanut song with all the actions. He has also shown lots of interest in other nursery rhymes and dancing.  He has also been paying with balls – throwing and kicking them. He loves helping me and his Dad in the garden. Reyansh is also getting better. Reyansh has been saying a few words clearly.

Most of the Teachers are friendly and sociable.  My daughter has really taken to a couple in particular.  The food the children are given always looks really yummy and nutritious.  During the summer the centre has good 'sun-safe' practices.    There are lots of opportunities to get involved as a parent and regular events for the whole whanau to attend.

Thanks Peta, to you, Sue, and the staff. You have all been of enormous support to our family, and especially to me during the time Kate was away, of which I can't thank you enough. Your teaching and culture that you instilled into Grace, and James for the time he spent with you, has been fantastic.  Kate and I couldn't have asked for a better start to life for Grace which has definitely given her the tools to succeed going forward into school and later.

We are going to miss the outgoing personalities and those positive smiles we always received from you all when it was time for drop off, especially needed when I'd been up all night with a sick or unsettled child, it just seemed to make mine and Kate's day.

Ever since my daughter Aliza joined Lollipops, I have seen a world of difference in her. I was very apprehensive about leaving her alone without me not knowing how she would feel and acclimatize. But I was reassured by the caring nature of the staff who have looked after Aliza ever so well. They have not only helped out with integrating her amongst the kids at lollipops, but also with ensuring she is looked after from all aspects including her physical wellbeing, diet and help with toilet training! Every time I come to pick Aliza up she has a big smile on her face and it warms my heart! I would recommend Lollipops Greenlane to anyone!

Its really difficult to say Good Bye but I want to take this opportunity to thank Lollipop Millennium center & Pukeko teachers for loving and caring for Asmi for nearly 2 and half years.

There is not a single thing that I can say "could have been better" when it comes to your center - Everything is just Perfect !! I have not seen such a kind, creative and informative teachers anywhere.

The great cultural mix you have is a plus for social growth of the kids and the school readiness program that you run has made Parent's life really easy. It is because of that, Asmi is all ready, confident and excited on starting her school.

Thank you very much for all the love and attention you provided to Asmi. 
We will dearly miss you all.

My husband and I have been very happy with the standards of care and have never had any concerns about leaving our son (&daughter downstairs) in their capable hands. Both teams go the extra mile and look to actively engage the children on many levels, for example the Xmas fashion shows, gardening, waterplay. Our son has thrived under the care of Sunita's team and through their commitment to learning he has developed more rounded interests ie drawing and writing not just cars and activity. Similarly our daughter is happy under Janelle and her teams care and love, and has honestly never fretted at being left in the loving embrace. There is evidence all around that the centre's child-centric approach is more than a value written on paper.

Teachers - The teachers are excellent and have been very supportive of us as parents, discussing any concerns we may have and more than willing to address areas we have raised as important to us. The use of both story park and written communications help us feel engaged and a part of our children's day and learning. The staff: child ratios are excellent and as mentioned previously there is a real feeling of affinity and connection between the children and the teachers.

Sunita and George. George is the friendly face who greets us and takes an interest in our family. He has dealt with any queries or changes efficiently and has been very accommodating of schedule changes. He runs a clean, well maintained, friendly warm centre which is a home away from home for our children. Sunita likewise is a happy bubbly presence in the centre who seems to get the best out of both her colleagues and the children, if the plays and mothers day events are examples. Sunita is knowledgeable and experienced which shows in the regular changes in the activities and experiences available to the children. Janelle is equally skilled and loving.

Thanks for being our "day parents" and for taking such excellent care of our babies.

Lollipops Greenlane is one of the best decisions I have made. To call this place a day care would not be fair. This is my daughter's second home basically. She loves it. The curriculum doesn't JUST include playing outdoors on the swings, but it actually includes exciting activities. From painting to making mosaics and from play dough to baking cakes. All the teachers are amazing. They understand how hard it is for families to leave the kids at the centre and they look after the kids as their own. WE ARE ALL ONE BIG FAMILY….

Ash - Zara's Mum
Greenlane

As parents it is impossible for us to stop worrying about our child. But at the back of our minds we are at peace because we know C is in the good hands of teachers like you. We appreciate your time, your patience and all your hard work. Thank you for the cuddles. Thank you for understanding his body language. Thank you for the kisses that wiped away his tears. Thank you for making a difference in his life. Thank you for being there.

To all teachers at Lollipops- My daughter Ashley has been attending Lollipops since she was 14 months old and she will be 5 years old soon. As a parent of Ashley, we'd like to take this opportunity to thank you for the excellent achievements and learning you have imparted to my daughters progress. Thank you so much for being there for Ashley, teaching her and loving her. You help and guide my daughter every single day in building the foundation of her knowledge. It is nice to feel so confident and safe knowing she is in your care and you are the reasons behind these wonderful achievements. We will miss you more than you know. Thanks for everything

13 years ago, I had to go through the terrifying decision of where to take my son for day care so that I was able to return to work. I found Lollipops Greenlane after looking at many different centres. I walked in their door with my son and have never wanted to leave. I have sent all 3 of my children to Lollipops over the last 13 years because of the friendly, caring, dedicated, special staff who have looked after and loved my children. They constantly look at ways to enhance our children's learning - they now use Storypark which gives us parents the chance to share home with the teachers and the teachers get to share the day with me that they spend with my child. My kids and I have loved every teacher and every minute that we have spent with them.