For early childhood learning.
Lollipops is a family-centred brand. These are high quality centres, with a natural theme. Lollipops embraces the spirit of freedom that every Kiwi child has the right to feel, our purpose-designed centres feel like the loving home our children left this morning. This is a uniquely New Zealand experience where your children blossom in partnership with our dedicated teachers, learning through Ako principles.
Find a centre
About Us
Wonder, explore, learn.
These words capture the child-led learning environment that children so love about Lollipops: a place where children learn self-empowerment, finding their own solutions through doing practical things.
Lollipops embraces the spirit of freedom that every 'kiwi kid' has the right to feel. Our family–orientated purpose designed centres feel like the loving home our children left this morning. This is a uniquely New Zealand experience where your children blossom in partnership with our dedicated teachers.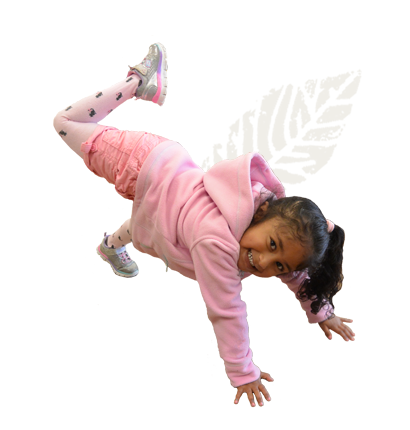 Testimonials
Vrajesh returned from his India trip in Feb-end and after being at home with mum for some time, we are keen to re-enrol him at Waiwhetu Lollipops again as he misses the teachers and children there.

My first child started at Lollipops Greenlane when he was 13 weeks old, and my daughter started at 6 months. Both were welcomed into the day care with genuine love and care, and all the teachers were endlessly accommodating for me. At times, I was jealous of the love between my children and their caregiver, but I know it was the best thing for my children to have those strong bonds at home and at day care. I am fully grateful that the teachers give all of themselves to each and every child. This is wonderful place, that strives to teach and develop its children constantly, with new and creative activities introduced frequently.

I'm a happy mum and happy to see Dovi settled in lollipops. I would definitely recommend Lollipops. All the credit goes to loving, caring affectionate teachers sharing knowledge with kids and parents

I enrolled my daughter Jia with Lollipops Ellerslie centre about 6 weeks ago. She was new in the country when she started with them and I am happy that we chose Lollipops (Ellerslie) as her first childcare in New Zealand as it has turned out to be the best decision. When she started , she didn't know the language at all and hence settling her down was little more challenging compare to other kids. But the teachers in the centre are so supportive that they went extra miles to give her that level of comfort and not just took care of her but encouraged her to get involved in different activities and used multiple ways to communicate with her. The teachers are so friendly with her that she settled down really quickly and even on the weekends she is talking about going to school now!! I can see that my daughter is learning something new every day and that's what we want as parents. Thanks you Lollipops!!!

My daughter Leah started at Lollipops Newton Road in May this year and has been so happy ever since.

All her initial visits went without a hitch and she was ready to say goodbye well before the time agreed upon.

Her social and communication skills have improved greatly and she comes home every day happy, contented and is always excited to talk about what she did that day.

I believe this is down to the dedication of Supriya and her team who put great effort into the planning of activities and tools needed for the toddlers' learning. Each week there is something new introduced and the centre often embarks on excursions which are hugely beneficial.

On the rare occasion where I have observed Leah to be upset when picking her up, the staff are genuinely caring and attentive to her needs and I have seen this same attitude and patience demonstrated with other children as well.

We have full faith Leah will continue to thrive at Lollipops Newton Road and commend the team for creating such a lovely environment for children to grow and develop.

It was such a tremendous feeling dropping our  little girl off at a safe and caring environment. Thank you all so much for what you have done for Gabby and us for the last 4.5 years.  Thank you so much.

Its really difficult to say Good Bye but I want to take this opportunity to thank Lollipop Millennium center & Pukeko teachers for loving and caring for Asmi for nearly 2 and half years.

There is not a single thing that I can say "could have been better" when it comes to your center - Everything is just Perfect !! I have not seen such a kind, creative and informative teachers anywhere.

The great cultural mix you have is a plus for social growth of the kids and the school readiness program that you run has made Parent's life really easy. It is because of that, Asmi is all ready, confident and excited on starting her school.

Thank you very much for all the love and attention you provided to Asmi. 
We will dearly miss you all.

We love how Connor has been encouraged to develop at his own pace. The stories about Connor on Storypark are great, we really appreciate the teacher interactions with the stories that we post. 

We appreciate the communication from Susan and Flo regarding Connor's transition into the Mini Todds room. We like how Connor is learning to talk and this is being encouraged through talking to him at his level.

How the room is set up differently everyday to provide Connor with new challenges and to suit his interests.We love the new skills, actions and songs Connor comes home with. The nature of the teachers by way of excitement and pride when he achieves or maters a new skill.

Eve and Brendon Murphy
Hastings

The Lollipops North Harbour Team have cared for my daughter since she was seven months old. During her time her at Lollipops North Harbour she has grown into a confident two year old.

She loves her time at Kiwis and often does not want to leave at the end of the day. I know she is in caring and kind hands when I leave her at Lollipops.

Ever since my daughter Aliza joined Lollipops, I have seen a world of difference in her. I was very apprehensive about leaving her alone without me not knowing how she would feel and acclimatize. But I was reassured by the caring nature of the staff who have looked after Aliza ever so well. They have not only helped out with integrating her amongst the kids at lollipops, but also with ensuring she is looked after from all aspects including her physical wellbeing, diet and help with toilet training! Every time I come to pick Aliza up she has a big smile on her face and it warms my heart! I would recommend Lollipops Greenlane to anyone!