For early childhood learning.
Lollipops is a family-centred brand. These are high quality centres, with a natural theme. Lollipops embraces the spirit of freedom that every Kiwi child has the right to feel, our purpose-designed centres feel like the loving home our children left this morning. This is a uniquely New Zealand experience where your children blossom in partnership with our dedicated teachers, learning through Ako principles.
Find a centre
About Us
Wonder, explore, learn.
These words capture the child-led learning environment that children so love about Lollipops: a place where children learn self-empowerment, finding their own solutions through doing practical things.
Lollipops embraces the spirit of freedom that every 'kiwi kid' has the right to feel. Our family–orientated purpose designed centres feel like the loving home our children left this morning. This is a uniquely New Zealand experience where your children blossom in partnership with our dedicated teachers.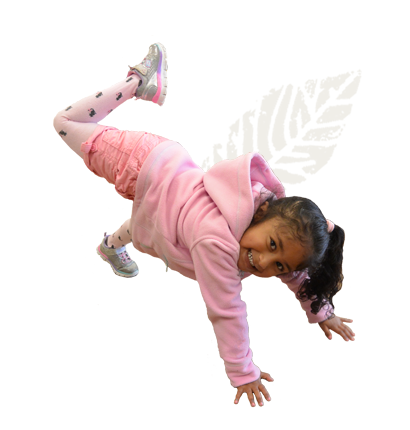 Testimonials
Most of the Teachers are friendly and sociable.  My daughter has really taken to a couple in particular.  The food the children are given always looks really yummy and nutritious.  During the summer the centre has good 'sun-safe' practices.    There are lots of opportunities to get involved as a parent and regular events for the whole whanau to attend.

Our children love the Coatesville Learning Centre, the staff are extremely welcoming, caring, creative, happy and fun with the children.  Ella-Rose (2 years old) is most upset if we pass the centre without dropping her off.  The facility is extremely well organised and clean, the meals are tasty, balanced and healthy.

My son Nathan loved the grass hopper soccer sessions that are also run at the centre, and the Coatesville primary school visits they ran, set his mind at rest to starting school.  We are pleased to have such a well run centre in the community

I love how Tracy and Libby are with Ihaia they have so much love for him and are always bubbly.

My name is Rosita Tangi and my daughter Totoa Tangi has been attending Central Park since Janurary 2014 .

The day I decided to take Totoa to this center I not only wished that she will be well taken ca re of but to also learn and grow in this center.

I could say it was the best choice I made to bring her to this  centers

Totoa is always looking forward to go to school every morning. She loves her teachers and friends and will tell me how her day went

I have watched her grow and I do know that the teachers in the center have helped her become the person she is today     so full of energy, confident and cheerful Totoa is a very helpful little girl and loves to learn new   things      I believe that the teachers do play a huge role into preparing her for primary  schools

I am tru ly grateful for these wonderful teachers , my daughter spends most the day with these teachers and they have been truly amazing

What I love about this center is that they celebrate different festivities . I have also participated in a few and It makes me so happy to see the children excited and happy to be dressing up

Since Totoa has been in Central park we have celebrated Mothers Day, Fathers Day, Diwali, Mataliki Day , Chinese New Years . Its just amazing to see them celebrate these important festivities and I do know that they will continue to .

Totoa has turned 5 and will start Primary school next year and I will like thank Sangeeta and her staff for all their hard works thank you for teaching , caring for my little Totoa. People may not tell you every day how much you do for their children but please know that your hard work is noticed and very much appreciated

I will strongly recommend Central Park to anyone

Lollipops Hastings is a place where I can leave my son with confidence and piece of mind, I know my son will be well looked after. A great place for children! The warm feelings starts from the reception, get a warm welcome with a beautiful smile at reception. Teachers are awesome they know everything about kids, what they had to eat, how long they slept, a neat and clean place, flexible for working parents. A safe place for your children. Highly recommended *****

My daughter Hazel loves the teachers and environment at Lollipops Aubrey Street. She feels comfortable and there are so many opportunities for her to learn.

Lollipops Aubrey Street has enabled my children to flourish by encouraging them, respecting them as individuals and building exceptional relationships with them. I know from the feedback and insights I get from the Kaiako that my children are nurtured here and their achievements noticed.  I feel like the centre is an extension of my family, a relationship I will miss when my youngest moves on to school.  It's always a welcoming and fun place to come as a parent, and to me this means it's a great place to come for my children.  

Astrid Haesli
Lollipops Aubrey Street

Vrajesh returned from his India trip in Feb-end and after being at home with mum for some time, we are keen to re-enrol him at Waiwhetu Lollipops again as he misses the teachers and children there.

The Lollipops North Harbour Team have cared for my daughter since she was seven months old. During her time her at Lollipops North Harbour she has grown into a confident two year old.

She loves her time at Kiwis and often does not want to leave at the end of the day. I know she is in caring and kind hands when I leave her at Lollipops.

I was pleased with all the teachers at Little World, how patiently and kind handling the kids and teaching them good manners that now my daughter has become a well mannered one. It was a very big thing and a good practice for the young ones to bring when they grow up and my daughter is one lucky child. I cannot thank Anu and Naveen enough for accepting my daughter in Little World, you are so kind...thank you words are not enough but we really "Thank You" for making a big changes in my daughter's motor development knowing she's having delays but now she's coping a " LOT". F became imaginative which is a good sign that's she's growing up with good and positive outcomes. And to all the Teachers in Little World- thank you so much you all are amazing! Kudos!