For early childhood learning.
Lollipops is a family-centred brand. These are high quality centres, with a natural theme. Lollipops embraces the spirit of freedom that every Kiwi child has the right to feel, our purpose-designed centres feel like the loving home our children left this morning. This is a uniquely New Zealand experience where your children blossom in partnership with our dedicated teachers, learning through Ako principles.
Find a centre
About Us
Wonder, explore, learn.
These words capture the child-led learning environment that children so love about Lollipops: a place where children learn self-empowerment, finding their own solutions through doing practical things.
Lollipops embraces the spirit of freedom that every 'kiwi kid' has the right to feel. Our family–orientated purpose designed centres feel like the loving home our children left this morning. This is a uniquely New Zealand experience where your children blossom in partnership with our dedicated teachers.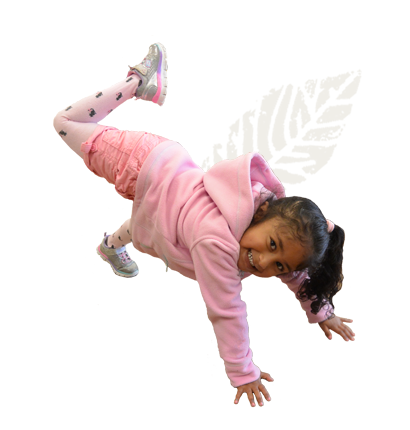 Testimonials
Lollipops Vickery, what a wonderful place, they treat our kids like stars. The teachers there are a friendly bunch and we share a friendly laugh.  My girl Zoe loves her teachers, her friends and bush kindy.  I love to hear all the stories that have happened during the day.  I love the fact that some of the kids like to sit down with me and read a book before I go to work.  I couldn't think of a better place to put my child while I work.  She has been there since she was one and she has learnt so much from all the cool experiences and teachers and especially the friends she has made.

Storypark took me a while to work it out.  The girls put photos up so I feel part of some of her events.  It is great.  Thank you

I can't believe my child eats so well when he is at Lollipops, he loves Ela's cooking and tells me mine isn't the same as Ela's.  You offer such a variety of healthy meals I don't need to worry!

13 years ago, I had to go through the terrifying decision of where to take my son for day care so that I was able to return to work. I found Lollipops Greenlane after looking at many different centres. I walked in their door with my son and have never wanted to leave. I have sent all 3 of my children to Lollipops over the last 13 years because of the friendly, caring, dedicated, special staff who have looked after and loved my children. They constantly look at ways to enhance our children's learning - they now use Storypark which gives us parents the chance to share home with the teachers and the teachers get to share the day with me that they spend with my child. My kids and I have loved every teacher and every minute that we have spent with them.

Thanks Peta, to you, Sue, and the staff. You have all been of enormous support to our family, and especially to me during the time Kate was away, of which I can't thank you enough. Your teaching and culture that you instilled into Grace, and James for the time he spent with you, has been fantastic.  Kate and I couldn't have asked for a better start to life for Grace which has definitely given her the tools to succeed going forward into school and later.

We are going to miss the outgoing personalities and those positive smiles we always received from you all when it was time for drop off, especially needed when I'd been up all night with a sick or unsettled child, it just seemed to make mine and Kate's day.

My little girl Sam started Lollipops North Harbour when she was 4 months old. Every time I left her there she was happy and I knew that she is in the most loving, caring and professional hands of the staff. They always made learning fun and she developed very strong bonds with all of her teachers.

Kids Inn provides a stimulating 'home away from home' environment where she could safely explore and learn. She learnt new things each day which she would share with us when we got home. It is a very family orientated centre and they encourage parent participation.

Thank you Lollipops North Harbour! Highly recommended to all. 

Little World is different to the other preschools, different in the sense of support that they provide to the children to settle in, learn and explore. The environment is always welcoming, caring and loving. They are based on the building of relationships with each and every child and all the staff are thoughtful and caring when it comes to looking after the children. So, in short I would say that Little World is the best place for little kids and I am glad that I made the right choice and would definitely recommend it to my friends. Thanks a lot for all the support provided to N in settling in.

Its really difficult to say Good Bye but I want to take this opportunity to thank Lollipop Millennium center & Pukeko teachers for loving and caring for Asmi for nearly 2 and half years.

There is not a single thing that I can say "could have been better" when it comes to your center - Everything is just Perfect !! I have not seen such a kind, creative and informative teachers anywhere.

The great cultural mix you have is a plus for social growth of the kids and the school readiness program that you run has made Parent's life really easy. It is because of that, Asmi is all ready, confident and excited on starting her school.

Thank you very much for all the love and attention you provided to Asmi. 
We will dearly miss you all.

Lollipops on Ruapehu Drive has provided excellent education and care for both of our daughters since they were seven months old. The educators at Lollipops are lovely, warm and caring who build strong supportive bonds with the children. The kids are always happy, relaxed and confident to approach their teachers with stories, questions or just for a cuddle. Our eldest daughter has now moved on to school and Lollipops has provided her with such good preparation that the transition has been seamless. Our youngest daughter loves it so much there that it often takes a good half an hour just to convince her to leave at the end of the day.

Nappies and nutritious food provided throughout the day is great. Lollipops also take the time to investigate and implement extracurricular activities for the kids such as swimming lessons, bush walks, football lessons, and trips out of town such as to the Wellington Zoo. Nothing is ever too much trouble and the teachers are always available to talk about the kids' day. They also make good use of Storypark, an online journal of our child's activities which is lovely to see pop up at work.

We would happily recommend Lollipops on Ruapehu Drive to any parent and will be sad to leave this community when both our daughters are at school.

Luke joined Lollipops Greenlane shortly after his first birthday and we can truly say that this has become his home away from home.

All the teachers have treated him with best care and I can leave him there every day with confidence knowing that he is loved and well looked after.

He has grown in leaps and bounds becoming a confident little 2-year-old boy.

Thank you to all at Lollipops Greenlane who fill his days with fun and laughter and wipe away his tears when I am unable to do so.