Wonder, explore, learn.
Three words that sum us up. They capture the natural child-led learning environment that defines Lollipops; a place where children learn self-empowerment, finding their own solutions by doing practical things.
Our well-trained, professional teachers support this learning journey, guiding and encouraging our children's exploration of their world, using high quality resources.
Lollipops centres are family-orientated and purpose-designed centres; they feel like the loving home our children left this morning.  We have rugs on our wooden floors, the framed artwork on the walls embraces natural tones, there are plants and flowers growing and being tended to by the children.
Centres for busy families
We get that life is busy; Lollipops is there for you. It's an environment that positively welcomes whanau as an integral part of the learning process, especially when both parents may be working full time, so the values our children learn are consistent, whether they are at home or at Lollipops.
A Lollipops child goes on a learning journey that ensures they are happy, stimulated and engaged – and they will excel in an environment where they are free to expand their minds and express themselves.
We grow gardens, pick flowers for the lunch table and even light the lunchtime candles. Daily rituals such as these, together with play-based learning and 'natural' environment-based encounters, help Lollipops children develop resilient and confident personalities.
Learning the kiwi way
Programme planning at Lollipops is based on the four learning principles of the New Zealand Early Childhood Curriculum – Te Whaariki. These are: Empowerment, Holistic Development, Family and Community, and Relationships. These four principles are designed to help your child become a confident learner with strong relationship skills – in other words your child soaks up great skills all while having great fun!
Lollipops nurtures great people to be their best.
Our children are happy, caring, respectful, independent, peaceful, purposeful souls, whose minds and bodies are ready for their next challenge.
The learning journey our children take is everything to us. We respect their abilities, their worth as human beings, and we recognise their individuality.  Respect for each other and our environment underpins everything we do at Lollipops.
We provide the tools to inspire our children. Passionate and professional teachers, well-resourced and cared-for premises, a loving community of parents and family.
We learn with purpose in an environment of peace and we value harmony, that's how Lollipops children blossom.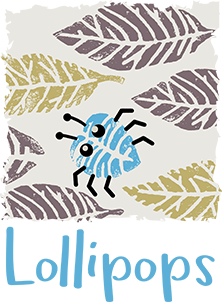 Meet Bennie.
'Where learning comes naturally,' perfectly describes the Lollipops experience. Here we learn in tune with nature, within a relaxed, carefully considered learning environment.
The centres smell nice, with natural pine and scented candles. Lighting is wherever practical, 'natural'. Wooden floors and neutral colour schemes also play a major role in determining the colour palette for Lollipops. The impression any visitor gets is of creative energy that isn't hectic or raucous. Our brand needed to reflect this.
The new Lollipops brand embraces neutral tones, with a handcrafted execution of leaves. It's a design that is both engaging and in tune with nature.
Into this realm a child has added their own interpretation, transforming one leaf into 'Bennie the Bug'. As this brand matures you will see Bennie reintroduce himself in various colours, and bring with him a cavalcade of friends who have also been created with linocut originality.
The Lollipops font is perhaps the 'loudest' part of the design.  It's exuberant, and offsets the quieter graphical elements. To us this speaks of the joy of learning.