Our Story
At Lollipops North Harbour our curriculum promotes respectful, reciprocal and responsive relationships in which children develop their own knowledge and theories.
We believe that children's experiences inform their developing theories as they think about, make sense of, and try to understand the world through the experiences that they choose to participate in.
We foster inquiry and curiosity by supporting children when they take an active interest in something occurring in their family, centre, community or cultural settings, or through providing stimulating experiences and opportunities that encourage self initiation and a desire to explore and find out more.
We follow the socio-cultural principles of learning based on the theoretical works of Vygotsky, whilst being mindful of the developmental stages explained by Piaget.
This socio- cultural approach to our curriculum is based on a desire to nurture learning dispositions, promote biculturalism and provide a holistic context. We believe that young children are unique individuals who are capable and confident. Their ethnicity is to be celebrated and their individuality respected.
Our programmes encourage links for children between home, community and previous learning.
We see children as individual learners who bring their own skills, experiences and interests into the Centre.
We acknowledge and embrace these aspects into the programme which provides opportunities for children to challenge and refine their working theories, build on existing knowledge and develop new knowledge and understandings which moves them closer to becoming confident and enthusiastic learners.
Children's play is viewed as meaningful and enables them to continue to grow and develop and extends the child's understanding and skills, developing a natural curiosity about the world around them. To do this successfully we must genuinely know about the child.  We learn about them through observations, and shared dialogues between the child, family, whānau and teaching team.
Teachers assist to structure the physical and emotional environment to support healthy interactions and relationships and provide inviting opportunities for children to actively participate and develop their learning through exploratory play. This occurs individually, and within small and large group settings.
Teachers follow children's interests to determine both the planned and spontaneous curriculum.
ERO Report
The Education Review Office (ERO) is the New Zealand government department that evaluates and reports on the education and care of students in schools and early childhood services. ERO's reports are used by parents, teachers, early childhood education managers, school principals and trustees, and by government policy makers.
Early childhood services are reviewed on average once every three years. Reviews will be more frequent where the performance of a school or centre is poor and there are risks to the education and safety of the students, or less frequent where a school has a stable reporting history and demonstrates good self-review processes and use of its assessment information.
You can read our centre's ERO review
Nursery ERO report click here
Preschool ERO report click here
Centre Information
Centre Hours:
Monday – Friday                                
Half Days/Full Days  8:30am - 3:30pm or 7:00am - 5:30pm
Saturday, Sunday & Public Holiday Closed
Ages Catered For:
0 to 6 years.
Centre Capacity:
Kiwis/ 0-2 yrs
Fantails/ 2-3 ½ yrs
Kakapos/ 3-6yrs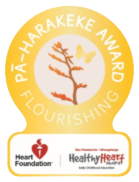 Sammy loves going to Lollipops North Harbour. The Staff are very friendly and always greet us with a warm smile. It is a great feeling knowing your child is in a safe, nurturing and fun environment when you have to leave to go off for work everyday.

The Lollipops North Harbour Team have cared for my daughter since she was seven months old. During her time her at Lollipops North Harbour she has grown into a confident two year old.

She loves her time at Kiwis and often does not want to leave at the end of the day. I know she is in caring and kind hands when I leave her at Lollipops.

I have a high health needs child and Kids Inn Fantails have gone above and beyond to not only keep her safe (no hospital trips related to daycare this year!) but to include her!

They can alter the activities to keep things safe for everyone. Seeing her face the first time she was able to help make and then eat something not made at home was delightful.

I continue to recommend Lollipops North Harbour to anyone I hear looking for a family environment for their littlies!

Thank you for looking after Cooper, you have all made us feel like part of the Lollipops family. We will be highly recommending you guys to anyone looking for care for their children.

Thank you for everything and we will miss you all

My little girl Sam started Lollipops North Harbour when she was 4 months old. Every time I left her there she was happy and I knew that she is in the most loving, caring and professional hands of the staff. They always made learning fun and she developed very strong bonds with all of her teachers.

Kids Inn provides a stimulating 'home away from home' environment where she could safely explore and learn. She learnt new things each day which she would share with us when we got home. It is a very family orientated centre and they encourage parent participation.

Thank you Lollipops North Harbour! Highly recommended to all. 

During Scarlett's time at Kids Inn we were very impressed with the help we received with toilet training, and during her time at Kakapos before starting school, we have loved all the opportunities she was given in Kiwi group.

Thanks you so much for all your help and support, we know Scarlett and us will miss all you lovely teachers.