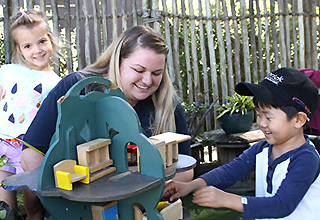 Elise Dawson , Centre Manager
What inspired you to become an early childhood teacher? 
I have always enjoyed being around children - even as a child I loved playing with dolls and acting out care routines with them. It just seemed a natural career path to me for as long as I can remember.
How long have you been working in this sector?
I started working in ECE in 2007 and became a qualified teacher in 2009.
What do you love most about what you do?
I just love watching the children explore the world around them, it is so amazing to see joy spark in their eyes as they discover something new.
What makes Lollipops North Harbour special?
We have a fantastic team of teachers with the biggest hearts, our outdoor environment is inviting and has lots of opportunities for exploration, and of course our children and their families are all amazing.

What is your favourite time of the year at the centre?
The beginning of the year because the sun is shining, and we get to hear beautiful stories from our children and their families of the adventures they've had over the holiday period. It is also a time when we welcome new families to our centre, so it is very special.
What is your personal ECE philosophy?
My philosophy is largely based on building respectful relationships with everything around us. If we can remember to always be respectful in all that we say and do then I think we are all off to a good start in anything we set out to do.

Where can we find you when you're not at work?
In my free time I love to spend time with my family, we really enjoy the beach and going to the park.  I also love to read, I find it very relaxing!
Bachelor of Education (ECE)
more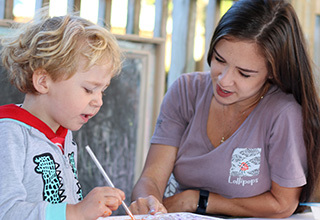 Stephanie McMillan, Head Teacher, Fantails
Kia ora, my name is Steph. I was born and raised on the North Shore and have lived here my entire life. I now have a family of my own and live with my partner and our son Oliver. I have a Bachelor of Education in ECE (2014) and began my journey here at Lollipops in February 2017. I have always known I wanted to work with children in whatever career path I chose, I knew I wanted to make a difference in their lives. I chose education as I love that I can work alongside children, gently guiding them in their journey as they learn and grow. I look forward to working alongside all of the children and family/whanau here at Fantails.