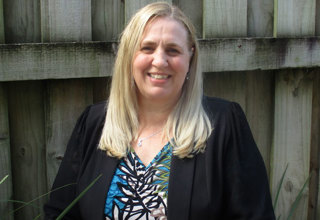 Anna Barnard , Centre Manager
Tell us about the path that led you to ECE.
I grew up in a big extended family and helped babysit my brothers, cousins and nieces from a young age. I love children and their unique personalities and always wanted to work with kids. Children are our future and I wanted to be part of their learning journey. I've been working in ECE for more than 20 years now, with more than five years in management.
What is it that makes your centre so special?
Our primary care from infants through to  preschool is something that's really important to us. This ensures that we have rich and meaningful relationships with our children and families. We have a very diverse team, and this brings a different dimension to teaching and learning at our centre. Everyone is encouraged to share their culture and we respect the uniqueness  of every one of our tamariki, staff and whanāu.
What are some of the best bits of your job?
I love to see children happy and engaged and being allowed to be themselves - and to see passionate teachers who love learning alongside them. I also enjoy all the different celebrations at the centre. It's wonderful to see our teachers, tamariki and families getting involved and these events provide a great opportunity to talk to our families and to get to know them all a little better.
more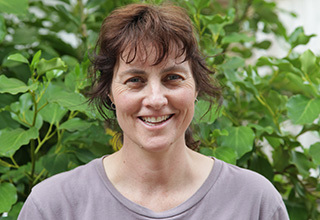 Kim Phillips, Nursery Teacher
Hello, my name is Kim,
I am currently working in the under 2s room here at Lollipops Swanson. I enjoy this age group immensely. Developing trusting relationships built on respect for each individual forms the basis of my teaching philosophy. Every child, family and staff member contributes their own uniqueness to the room/centre, which keeps my job interesting and fun.
I love observing children at play and sharing their learning journey with them. After graduating from Unitec at the end of 2011 the majority of my teaching so far has been with infants and toddlers. I have three adult sons (all still live at home with me) in addition to two dogs, a cat and five guinea pigs. It's certainly a busy little house at times! Any spare time is usually spent walking at Bethells Beach or in the bush with the dogs.
I look forward to getting to know you and your child: understanding and supporting them through their own learning style.
Bachelor of Teaching (Early Childhood Education)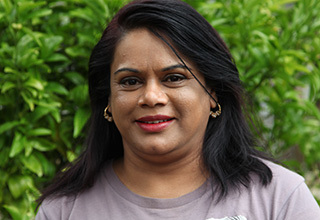 Sarojni (Roja) Lata, Team Leader Preschool Room
Kia Ora! I am Sarojni (Roja) Lata.
I originate from Fiji Islands in the Pacific and worked for about two decades in various primary schools around Fiji. I have also worked for few ECE centres here in New Zealand.
I am married to Jetesh and we live locally. I love photography. I also gravitate towards visual learning. I enjoy many types of games - both indoor and outdoor -  like badminton, rounder monopoly and snakes and ladders. Cooking and being in my garden at home is another one of my passions. I also love travelling and meeting people. I love to learn about people from different cultural backgrounds.
I believe that all children can learn, only their learning abilities differ, therefore I have high expectations for children. Children from different communities need structure in their education - the centre may be one of the few places where things are consistent in their lives. I employ structure at the centre, using routines and procedures to help students to become more confident and comfortable.
Master of Educational Leadership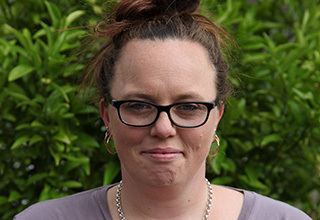 Crystal Fowler, Toddler Room Teacher
Hello everyone, my name is Crystal,
I am the mother of three beautiful boys, Adrian, Evan and Nathan, they all keep me very busy. In my spare time (which doesn't happen very often!!), I love going for walks, fishing, swimming, playing football, arts and crafts, photography and best of all hanging out with my boys.
I have worked in the ECE sector for over 15 years and have loved every moment of it. I pride myself on making children independent individuals. Children are our future and I feel they need to be given room to grow mentally and physically.
I have worked in a few centres around Auckland and was also an at home educator for a home base childcare company while my children were younger. I have worked in all rooms but have found that the Toddler Room is a very satisfying and challenging all at the same time which I really enjoy.
I have been here at Swanson Lollipops since May 2016 an I am so very happy here with this amazing bunch of ladies.
Bachelor of Teaching (Early Childhood Education)