Welcome to Lollipops Mount Albert, a warm, welcoming and nurturing early childhood centre that offers a home away from home for local children. Purpose built, with inspiring and innovative indoor and outdoor spaces, our centre is the ideal place to begin your little one's learning journey. Our passionate and professional teaching staff love what they do, and help each child tap into their own unique potential. Well resourced, with an enriching curriculum, we offer the highest quality care and education.
Want the best for your child? Contact us today at Lollipops Mount Albert!
Centre Hours:
Monday to Friday: 7:30 am - 6:00 pm
Closed Saturday, Sunday & public holidays
Ages Catered For:
3 months - 5 years
Lollipops Mt Albert is different to the other preschools, different in the sense of support that they provide to the children to settle in, learn and explore. The environment is always welcoming, caring and loving. They are based on the building of relationships with each and every child and all the staff are thoughtful and caring when it comes to looking after the children. So, in short I would say that Lollipops is the best place for little kids and I am glad that I made the right choice and would definitely recommend it to my friends. Thanks a lot for all the support provided to N in settling in.
I am so grateful that we have StoryPark up and running... now let me give you insights how I was pleased with all the teachers at Lollipops Mt Albert, how patiently and kind handling the kids and teaching them good manners that now my daughter has become a well mannered one. It was a very big thing and a good practice for the young ones to bring when they grow up and my daughter is one lucky child. I cannot thank Anu and Naveen enough for accepting my daughter in Lollipops, you are so kind...thank you words are not enough but we really "Thank You" for making a big changes in my daughter's motor development knowing she's having delays but now she's coping a " LOT". Frances became imaginative which is a good sign that's she's growing up with good and positive outcomes. And to all the Teachers in Lollipops - thank you so much you all are amazing! Kuddos!
Leizel Deligero, Frances's mum

As parents it is impossible for us to stop worrying about our child. But at the back of our minds we are at peace because we know C is in the good hands of teachers like you. We appreciate your time, your patience and all your hard work. Thank you for the cuddles. Thank you for understanding his body language. Thank you for the kisses that wiped away his tears. Thank you for making a difference in his life. Thank you for being there.
What's On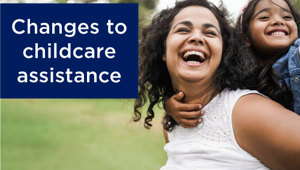 Effective 1 April 2023, more people will be eligible for subsidy and the hourly subsidy rates will increase.